TSSA Exam / Application fee
In addition to the application for certification fee of $100, a fee of $89 per examination will be added, including for no shows.
This fee is incurred by the OPCA for each student and must be reimbursed by the student on the day of the review/exam session.
2017 Liquid Fuels Handling Code
The 2017 Liquid Fuels Handling Code can be purchased through CSA's online store at shop.csa.ca. All Petroleum Mechanic course participants must have a 2017 Codebook when attending review sessions. Codebooks are not included in OPCA course packages and must be purchased separately.
General Information
All participants must be registered in a Home Study course, allowing sufficient time to complete the course before registering for a review/exam session. Each course is approximately 35-40 hours in length (suggested times, course completion depends on the individual's study habits). These times are based on theoretical training only. The individual is responsible for completing the practical requirement by arranging to work with a licensed petroleum mechanic.
Individuals must hold a valid PMH license in order to register for PM1, PM2 or PM3 classes
Related Documentation (click links below to download)
PM PRACTICAL EXPERIENCE SIGN-OFF DOCUMENT
ATTENTION REGISTERED STUDENTS:
Download the OPCA Student Guide and Review/Exam session details here:
OPCA STUDENT GUIDE/SESSION DETAILS
Online Learning tools – To ensure students are prepared for the review/exam session they are asked to complete the on-line quizzes before attending the session.  If you have not received your OPCA Learning account information, contact the OPCA at 1-866-360-6722
TO REGISTER FOR HOME STUDY COURSES
Please review OPCA's Home Study Course Policies before registering for any courses
REGISTER BY MAIL/EMAIL
Address for Mail : 387 Mapleview Drive West, Barrie ON, L4N 9G4
Email registration to : info@opcaonline.org
Payment Options: Cheque, Money Order, Credit Card
Download Registration Form
(New prices in effect 2018)
Classes are scheduled based on demand. It is recommended you register for courses to help us determine our schedules. Students must pre-register to attend any review/exam sessions.
Home Study Course fees
PMH – OPCA Members: $325.00 Non-Members: $525.00
PM1 –  OPCA Members: $500.00 Non-Members: $700.00
PM2 – OPCA Members: $500.00 Non-Members: $700.00
PM3 – OPCA Members: $500.00 Non-Members: $700.00
Not included in the above fees:
GST/HST
TSSA Fee – $189.00 exam / license application fee
Exam Rewrite Fees
OPCA students can rewrite on the day of regularly scheduled review/exam session for the course they are taking. It is recommended the student attend the review session.
Fee is $289.00 – payable to OPCA on exam day
($100.00 exam fee to OPCA & $189.00 application fee to TSSA)
UPCOMING REVIEW/ EXAM SESSIONS 
Due to COVID-19 we are limited to 8 students per session in order to maintain social distancing.  All Students must wear a mask when entering/leaving the classroom.  Students must bring their own pen, pencil, and Liquid Fuels Handling Codebook.  OPCA will not supply books.  Students cannot share codebooks.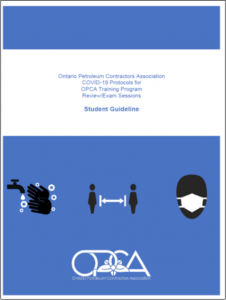 Upcoming sessions:  ALL APRIL REVIEW/EXAM SESSIONS POSTPONED DUE TO COVID-19 RESTRICTIONS
PMH –  Monday April 19 2021 (class full)
PMH –  Tuesday April 20 2021  (class full)
PM1 –  Wednesday April 21 2021 (one spot available)
PM2 –  Thursday April 22 2021  (class full)
PM3 –  Friday April 23 2021  (one spot available)
More classes pending in April / May 2021
Classes are scheduled based on demand.  Applicants must be registered in an OPCA Home Study Training Course to enroll in review/exam sessions.   Download our updated registration form above.  Space is limited.
*Please register now for Home Study courses, be ready for review/exam sessions in Spring 2021*