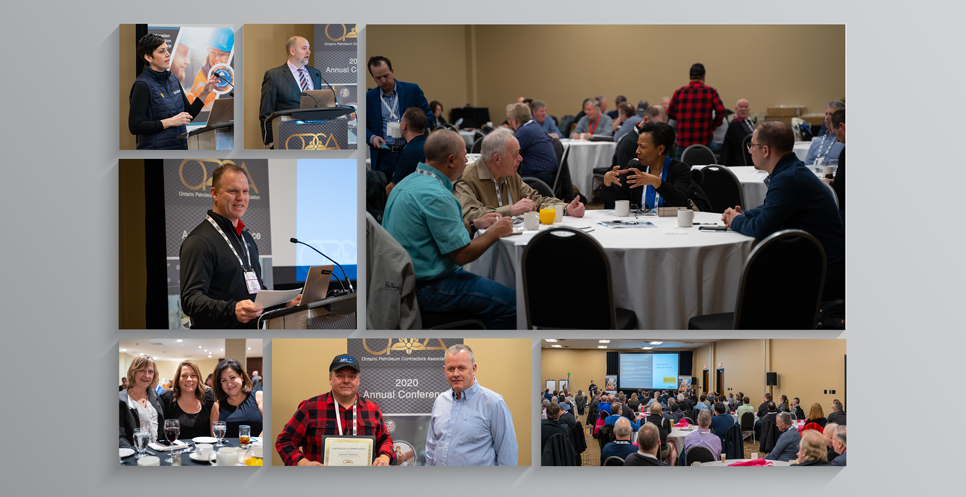 Watch our Annual Highlight video below!
The OPCA held their annual conference on March 2-4, 2020 in Toronto. Events were held in conjunction with the Convenience U Carwacs Show at the Toronto Congress Centre.
Also, in conjunction with the conference, the OPCA hosts a full day of training seminars provided by industry manufacturers and distributors. The companies that participated in the training sessions this year were NOV, Veeder-Root, Franklin Fueling, Red Leonard Associates, OPW, ZCL, Icon, PD McLaren, and joining us for the first time this year National Energy Equipment. We thank these companies for their continued participation in providing these sessions for our members and their employees. The OPCA also extends the invitation to staff and inspection team members from the Technical Standards and Safety Authority to attend these sessions and appreciate their involvement in our event.
POST Safety Forum
The OPCA hosted a POST safety forum on March 3 at the Toronto Congress Centre. The safety forum was attended by contractors and oil companies from Ontario as well as several from across Canada. Guest speakers included Craig Bennett of Suncor Energy who discussed Suncor's Life Saving Rules and how they tie in with POST requirements and critical procedures and Erin Yarosh of BGIS discussed some of the root causes of mental health issues in the workplace including talking with your workers and the importance of developing a mental health program for your workplace. Adrian Holierhoek from Worksite Safety also who discussed best practices for confined space work on petroleum sites including rescue procedures and equipment used for tank sump entry, one of the most frequent tasks involving confined space work. Mike Lamont from National Energy Equipment served as Master of Ceremonies.

OPCA Annual General Meeting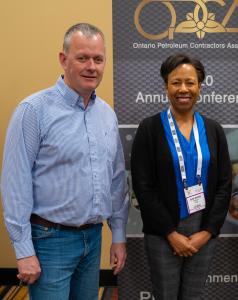 The OPCA held their annual general meeting on March 5 at the Toronto Congress Centre. OPCA Vice- President Terry Ablett took over chairperson duties for President Ken Jamieson who was unable to attend. Terry thanked OPCA members for attending and welcomed guests including Zenon Fraczkowski and Ann-Marie Barker representing TSSA and Nathan Fahey and Erick Morales from the Ministry of Government and Consumer Services. Ann-Marie Barker also provided a presentation reviewing the current requirements for single wall equipment including grandfathered installations, cathodic protection testing and leak detection.
Terry presented the OPCA annual year in review via video presentation. The presentation included an interview with OPCA President Ken Jamieson. Ken discussed the OPCAs various programs and initiatives including petroleum mechanic training, the Petroleum Oriented Safety Training program and OPCAs latest initiative, a training program for generator installations.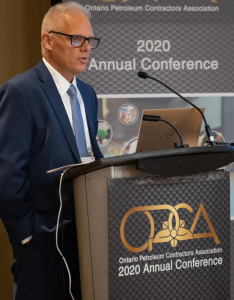 David Mason of Canada Brokerlink manages the OPCA insurance program for environmental and contractor liability insurance, as well as personal insurance for OPCA members and their employees. Dave presented the results from the OPCA insurance program which includes General Liability, Environmental Liability, Automobile, contractor's equipment, and property insurance. Along with discussing the results and current market conditions of the general insurance industry, Dave also discussed the insurance coverage issues around Snow removal operations and Cyber breach exposures.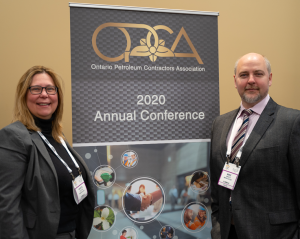 Our Keynote speakers were Krista Chaytor and Michael Swartz of Weirfoulds Law who discussed the updates to the Construction Act that every contractor should be aware of including prompt payment legislation, a regime to keep payment process flowing and the adjudication process. Their presentation is also available to members and contains these processes in well laid out schedules. Contact the OPCA for details.
Michael Kaloussian of LVM Tech was also on hand to introduce new services available for OPCA members including GPS tracking and cell phone plans. The plans are also open to companies within the POST and CPCA communities and welcome to contact Michael via the OPCA or POST websites for further information. The OPCA is pleased to be working with LVM to deliver even more value by integrating wireless products with other LVM Tech solutions, such as tracking, Mobile Device Management, and documentation.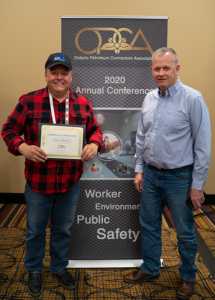 During the Board of Directors election, it was announced the Lance Mullett and Carmen Villeneuve were retiring from their Board positions. While Lance was not in attendance, both he and Carmen were acknowledged for their participation on the Board and presented with token of appreciation.
During the election, four new directors were elected: Dwayne McDonald of BGIS EFS, Rick Lombardi of BGIS, Matthew Field of Tanknology and Zachary Villeneuve of Alf's Pump Service. We are excited to see new members on the Board and look forward to their participation.
We would also like to acknowledge our sponsors of this year's conference. We appreciate their continued support of the OPCA. We would also like to acknowledge the support of Ensemble IQ and the Convenience U Carwacs Show for their support of the OPCA conference. We look forward to our continued partnership and next year's event.