Members gathered this past March in Toronto for the Ontario Petroleum Contractors Association (OPCA) annual conference March 5th to 7th for three days of industry training, workshops and subject matter experts sharing their insights on relevant issues impacting our members.  Events were held in conjunction with the Convenience U / Carwacs Show hosted by EnsembleIQ at the Toronto Congress Centre. The OPCA welcomed members and a number of guest speakers over the three-event providing manufacturer training, a safety forum and closing with their annual general meeting. Holding the conference in conjunction with the Convenience U / Carwacs Show which showcases the latest in industry innovation and technology gave members the opportunity to attend the two-day trade show between OPCA events.

Events kicked off March 6th by welcoming back the many manufacturers and distributors who provided the training sessions including Franklin Fueling, OPW, Red Leonard, Gilbarco, Containment Solutions and Icon Containment Solutions. We also welcomed ZCL who joined the contingent of trainers for the first time this year. The sessions focus on a variety of leading petroleum related equipment such as fuel storage tank installation, piping and fuel management systems. Approximately one hundred people attended the various training sessions including a number of staff from the Technical Standards and Safety Authority to which the OPCA extends an invitation. The OPCA thanks everyone who attended as well as the companies for working with the association in providing this training for members and their employees.

On day two, the OPCA hosted a safety forum in support of the Petroleum Oriented Safety Training (POST) program. POST was launched in 2006 and created with contractors working in the petroleum industry giving them the convenience of following one consistent safety standard when working on petroleum sites. Many contractors tell us POST has enhanced their company's safety program ensuring their workers are protected in the best possible way. Now, each year the OPCA works with members to organize a safety forum in conjunction with the conference to reinforce the support of POST by contractors, provide new learning opportunities and address new POST initiatives. We were also fortunate to have support at the forum with presentations from both Shell Canada and Suncor Energy Products addressing safety trends and alternative energy and how it will impact the industry.  OPCA safety training partner Worksite Safety was also on hand to provide a demonstration of proper use of fall protection equipment.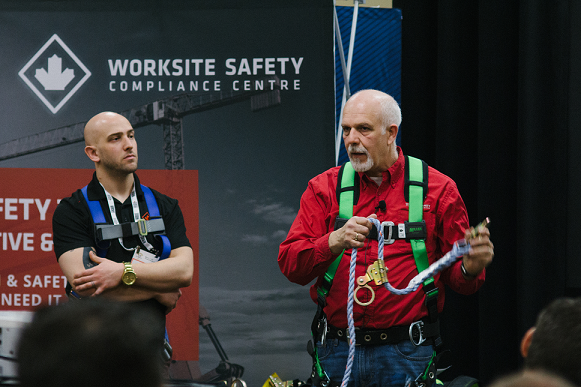 This year at the safety forum we also recognized contractors in attendance for their continued support of POST with a certificate of appreciation with the intent of recognizing contractors across Canada throughout the year.
Visit the POST website at www.POSTtraining.ca for highlights of the safety forum including links to our speaker presentations that we encourage POST contractors to share with their staff.
On the evening of day two, members attended a dinner with entertainment provided by local award winning comedian Gilson Lubin. Originally hailing from Saint Lucia, Gilson has performed across Canada including the Just for Laughs festival in Montreal and won the Canadian Comedy Award for best newcomer bringing his fresh perspective of living in Canada. He has spent the last couple of years on the CTV show MTV Live.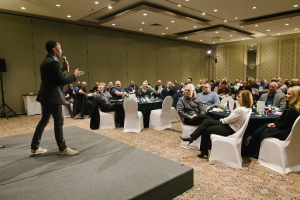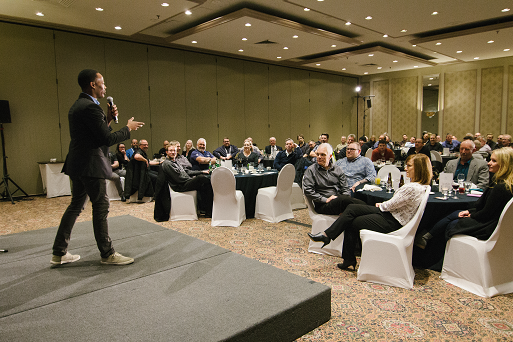 Afterwards members visited the sponsor hospitality events hosted by National Energy Equipment, Waleco, Hi-Sharp and KMD. We thank our sponsors for holding their events in conjunction with OPCA and for their continued support.
The final day was the OPCA Annual General Meeting held at the Toronto Congress Centre. OPCA President Ken Jamieson welcomed members and guests and introduced the Board members in attendance; Northern region director Terry Ablett, Eastern Region director Bill Rathwell, General member director Henry Gruyters, Central region director Dave Thompson, Member at Large Carmen Villeneuve and Associate Director Elson Fernandes.  Ken also introduced OPCA's Executive Director Michelle Rae, office manager Donna Riddle and administrator Johnathan Rae.  Ken also welcomed CPCA President Marcus Cormier who had travelled from Alberta to attend.
The OPCA presented the year in review through a video presentation highlighting OPCA's various programs such as our various training programs and partnerships with insurance companies that offer various coverage programs for liability, environmental, health and wealth management. We recently launched a new program last year offering personal insurance for members and their employees. Tracey Montgomery and Meghan Durocher were on hand from Canada Brokerlink, our program partner for contractor liability, environmental and personal insurance to provide an overview of these program for our members.

Our special guest speakers this year were Jody Maillet, Regional Manager from Berkley Surety and Theresa Meadows of Meadows Law. Jody was on hand to discuss the amendments to the Construction Lien Act (Ontario Bill 142). The amendments address a number of issues to modernize the act but also introduce some new amendments including a prompt payment regime, mandatory adjudication for payment disputes and amendments relating to holdbacks, liens, bonding and trusts. Jody's presentation helped navigate through some of these changes and how they will impact our members. Jody's presentation is available through the OPCA upon request.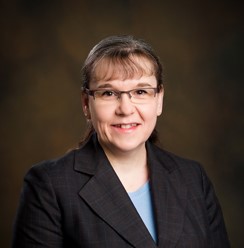 Theresa Meadows who has also worked closely with the Alberta Petroleum Storage System Contractors Association on some of their initiatives with respect to contractor liabilities accepted our invitation to speak on this topic to our members in Ontario. Theresa discussed the keys to managing risks when it comes to contractual arrangements, ensuring both the contractor and their clients understand the scope of work and developing standards to help a contractor prepare for contingencies.  Theresa's also recently contributed to the Canadian Petroleum Contractor Magazine writing on these topics. Her article can be found in our October 2017 issue located on the CPCA website at www.cpcaonline.com.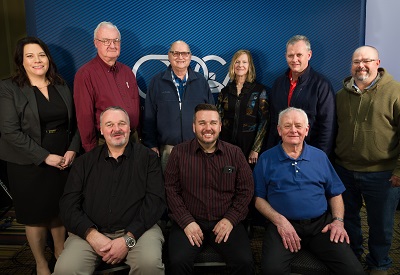 The OPCA Board of Directors saw two members retiring this year. Phil Hughes of Southwest Energy Control Systems of Canada who served as Associate Director and Vice-President and Henry Gruyters who served as General Member Director. Taking their place respectively are David Ledingham of Petroleum Technical Services and Richard Lebel of PSL. Presentations were made to both to Phil (in absentia) and Henry in appreciation for their time and commitment to the association.
Lastly, a huge thank you to all of our sponsors helping us make this such a successful and enjoyable event for our members by providing amazing prize donations.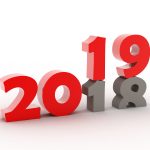 Mark your calendars for next year's conference is scheduled for March 4-6 2019 in Toronto again in conjunction with the Convenience U / Carwacs Show.