Join our manufacturers for training sessions on the various petroleum equipment and technology such as tanks, piping and fuel control systems.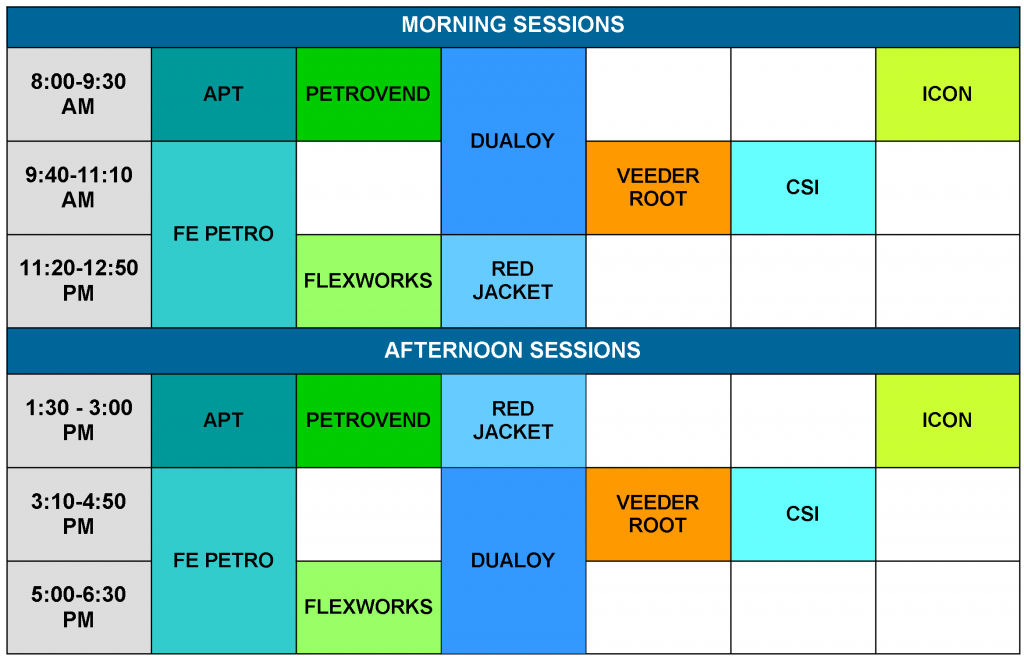 All sessions are ninety minutes (approx.) except for FE Petro and Dualoy which are 3 hours (approx.)
Continental Breakfast and Lunch is provided by the OPCA
Sessions available:
CSI – Sponsored by Containment Solutions Inc.
CSI will be providing a detailed training session which includes all the Contractor Training Materials for contractors who need training to properly install a fiberglass storage tank. The information includes Tank Installation Instructions, an Installation Training Presentation, and an installer installation exam. This training kit is built to be a comprehensive program for first-time installers and a refresher course for experienced companies as well.
Once a contractor completes the training, an educational certificate is provided to the company and is valid for two (2) years. During this two year period the company is responsible for training new employees in the same manner, using the CSI approved training documents and tools.
ICON – Sponsored by Icon Containment Solutions
Icon will provide Certified Installer Training. Time permitting there will also be some new products introduced.
FE PETRO AND APT – Sponsored by Franklin Fueling
Franklin will be using their new FFS Pro University system to train and certify contractors on APT and FE Petro. Costs for attendees will be waived for the OPCA event.
Frankin Fueling required all attendees attending these sessions also register with FFS Pro University by creating an account. The link to register is https://university.ffspro.com/
Dualoy Fibreglass Pipe training  – Sponsored by Red Leonard & Associates
Flexworks – Piping training session – Sponsored by OPW
Petrovend – Sponsored by OPW & R & D Marketing
Session covering the PetroVend FSC3000 and Nano tank gauge programming systems. The session will prepare attendees to complete their certification online through OPW University.
Veeder Root – Sponsored by Gilbarco
TLS Tank Gauging training