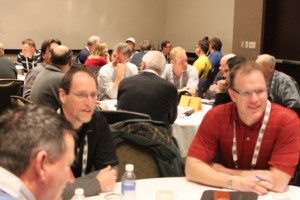 ROUNDTABLE SUMMARY FOR MEMBERS
The following is a summary of the feedback generated at the OPCA Annual General Meeting roundtable discussions. The OPCA is grateful to members for their participation in these discussions. Included in the feedback below are some initial responses from OPCA.
SAFETY
Petroleum Oriented Safety Training
Summary of member feedback:
Happy with the website and the availability of other online safety training
A lot of paperwork but understands it is required by oil companies
Consider periodic site inspections of POST requirements by trained personnel
Create mobile friendly website
Automatically add companies to POST database
POST online orientation – increase level of difficulty, more emphasis on certain areas e.g. lockout/tagout
We received some great feedback from members OPCA's mandate for POST is to continuously improve the program and website. Recent additions include a resource page for suppliers of safety equipment and in-class safety training.
The POST committee reviews the forms and documents every year and is considering "simplifying" some of the forms. This year the committee also developed a new Vacuum Truck checklist.
While the POST website can be viewed on most hand held devices and tablets, we are also looking at developing a POST mobile app.
All companies that have employees complete the POST online orientation are automatically added to our "Certified Company" list. The POST website also includes an opt-in database of POST companies searchable by area and services. Companies are required to register on their own as they are required select the services they provide from a pre-populated list.
The committee is also developing another level of the POST online orientation geared toward experienced workers. The course will be more comprehensive as well as an increased level of difficulty.
TSSA / REGULATION
TSSA should standardize their fees
Many gray areas with respect to the B139 code
Inspector's practical knowledge needs improvement
More consistency is needed with respect to code enforcement
TSSA needs to address the same acceptance level of PMs in fuel oil as the LFHC
Mandatory Site Operator license needs to be implemented and enforced
Support OPCA's issue with TSSA variance process
Lobby change in requirements for generator system approvals
Summary of member feedback:
OPCA Directors will continue to bring these issues to TSSA through the Petroleum Advisory Council and Risk Reduction Groups. Currently the OPCA is also working directly with the Ministry on several of these issues. Members are also encouraged to speak to their directors or to the OPCA office directly on any issues or concerns they have with TSSA.
OPCA MEMBER INVOLVEMENT
Many members are willing to volunteer on the Board and/or sub-committees for special projects. It was also suggested the OPCA set a maximum term for Board members with the option to return after their replacement has served their term.
ANNUAL CONFERENCE
General feedback on the conference was positive. Some suggestions were made with respect to speakers (e.g. Environment Canada).
Some members also recommended more time in between manufacturer training sessions. OPCA will look at future schedules and try to accommodate more breaks taking into account the time constraints and tight schedule.
OPCA INITIATIVES
The general feedback on current OPCA projects was positive (i.e. updates to training material etc.).
Based on some recommendations, the OPCA can look into providing workshops for members on specific topics e.g. work on Federal lands, B139, generators etc.