Proceeds to benefit Threads of Life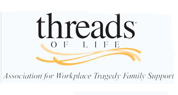 Threads of Life is a national charity that is dedicated to helping Canadian families who have been affected by a workplace tragedy, life-altering injury or occupational disease. It currently provides a network of hope and healing to more than 1,700 family members through one-on-one peer support, links to other community support services and the opportunity to take action to help prevent similar tragedies to other families.
Join OPCA members on September 15th for a fun day of golf at the beautiful Nottawasaga Resort in Alliston.
Nestled within the beautiful Nottawasaga Valley, the golf course is the only 45 hole golf resort in Ontario and is considered to be a golfer's paradise. Whether you are a serious golfer or a recreational player, you will encounter a scenic and unforgettable challenge on both golf courses.
For this tournament we will be playing the scenic Briar Hill and Valley courses, each consisting of 9 holes.
Registration: $100.00 per player – includes Golf, power cart and dinner
Hotel rooms may still be available at the Nottawasaga Resort- contact the hotel at Tel: 705-435-5501 Toll Free: 800-669-5501
Sponsors and prizes needed!
Sponsorship is $400.00.  Click the button below to sponsor online!
If sponsorship is not possible, we would also gratefully accept a prize donation. Please contact Johnathan Rae at 1-866-360-6722 or john@opcaonline.org to send a prize(s) for the tournament.  
Thank you for your support!  See you on the course!
Click here to register!