OPCA members discussed a number of issues at this year's Annual General Meeting held on March 19 in Toronto.
Thank you to all of the members for their participation and for their feedback. 
We have summarized some of the feedback below.  Due to the candid nature not all feedback is published.
OPCA 2014 CONFERENCE- ROUNDTABLE DISCUSSION
TOPIC #1 – SAFETY
Petroleum Oriented Safety Training
The new website is easier to read and navigate. POST is doing well and everyone loves that there is continued progress and the changing of the forms to hopefully make things easier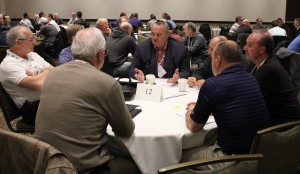 Suggestions:
Add fall arrest for Underground tanks
The POST should set up a tracking system for near misses and incidents so the contractors can be informed on types of injuries that are sustained or types of equipment are causing injuries.
Everyone likes POST.  They hope to see it go outside of Canada.   No need to attend classes as everything is pretty simple.
More examples of Daily Safe Work Permits and JSA.
Set up POST as an accreditation system similar to "Comply Works" and "ISN"
OPCA hosted safety training 
The OPCA hosted safety training was an idea everyone liked if they were regional meetings and the winter time would be preferred.  Smaller contractors were especially in favour of this so that they don't need to organize safety training sessions.
TOPIC #2 – TSSA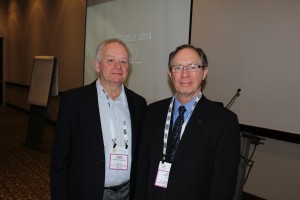 OPCA surveyed members on their opinions of TSSA various departments from administration to inspection services.  While members agreed there were no major issues with inspection services for liquid fuels, consistency amongst inspectors could be improved in both this sector and Fuel Oil.  Members encouraged OPCA to continue lobbying for code consistency and continuing education for inspectors.
Members also noted many inspectors ask questions in an effort to learn more about the systems they are inspecting.
TOPIC #3 – REGULATION
Are there any regulation changes OPCA should propose to TSSA?
Update the LFHC and include live updates (via download).
Regulation Changes should include the generator side being brought forward. Single wall steel pipes and tanks should be abolished, the criteria for replacement or use are too discretionary to the inspector, and technicians receive in consistence direction. Engineers should have a designation in liquid fuels.
Continue lobbying mandatory Site Operator certification.
Electronic Line Leak Detection and single wall tank and piping regulations are out of date
TSSA should adopt UL standard
Generators need separate code
Should put STP lights back in code
TOPIC #4 – ANNUAL CONFERENCE
Feedback: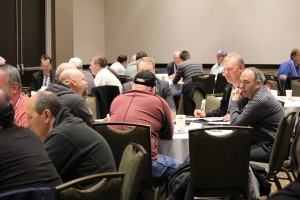 Great for OPCA to have a hospitality room
Speaker suggestions: WSIB, Insurance scenarios, Federal codes
Great conference (well run/well organized) and everybody seemed to like the format as we have it.
They thought the POST forum was really good (especially Pinball).
Good speakers
Other entertainment venue suggestions: Woodbine Racetrack
Great speaker (Michael Clemons)
Great training
Great dinner
TOPIC #5 – OPCA INITIAVES
The OPCA has developed recommended practices, Petroleum Mechanic training material etc.. is there anything else ?
Anything you would like to see the OPCA develop?  E.g. Other recommended practices? OHS related programs?
Best practice suggestions: Fuel oil, DEF
Help keep members current with respect to TSSA bulletins and updates
TOPIC #6 – HOW TO ATTRACT AND RETAIN EMPLOYEES
OPCA should continue their participation in career fairs.
More awareness of the trade if needed
Employment issues are not specific to our industry
Pension plans for OPCA members
Need more exposure to the trade at the high school level
TOPIC #7 – TRAINING & CERTIFICATION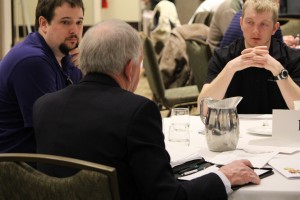 Training suggestions – electrical module, generator module, gas monitor training, sub-contractor management
More definition/definitive differences between PM1, 2 & 3
The training courses are good
The exams don't really test against course materials.  This is a TSSA issue
There is a feeling that there are still a lot of people out there with PM licences who do not have enough training or knowledge (though it was said to be people outside the association)
Courses could be more technical
TOPIC #8 – OPCA MEMBERSHIP
Suggest promoting OPCA to potential members.
The OPCA was a benefit to their companies and the industry and is helping improve the industry and would recommend anyone to join.
TOPIC #9 – INSURANCE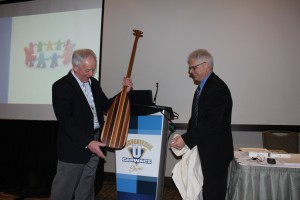 OPCA insurance program is good.
Suggest personal insurance for members (home, auto etc.)
Good practice to always document your work (including photos).
Solutions for more flexible method of obtaining bonding is needed.  Eg. Per project basis
Suggestion made that members be provided with information on claims going on within industry as awareness / learning examples.